Rocky Mount, a Work in Progress
It's been awhile since anyone updated the family blog. So, I thought I'd post a few pictures, so everyone what all we'd accomplished at Rocky Mount. It was a very tiring three weeks, as you can imagine. But, a lot of progress was made.
Some before pictures: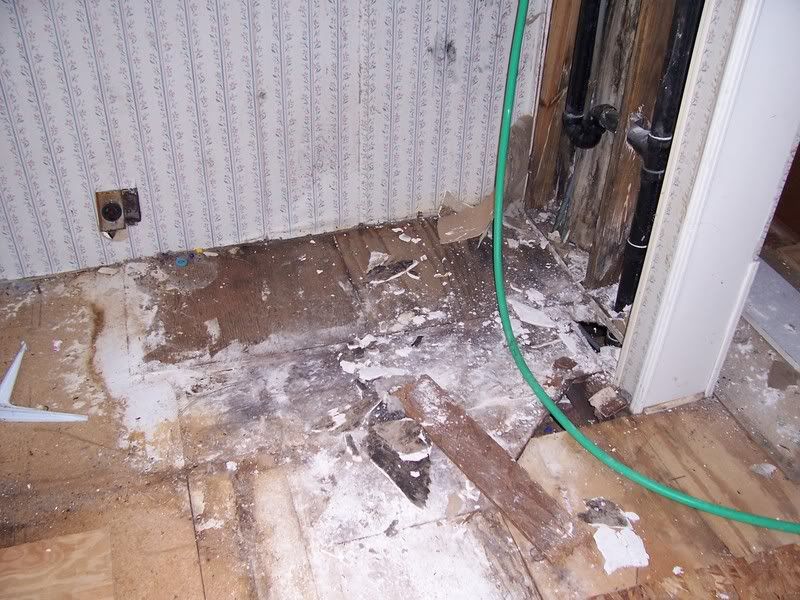 This is the Laundry Nook's floor. As you can see, it's pretty messed up. The last people who rented the place had a leak in the washing machine's feed, and never bothered to fix it. Talk about a mess! There's a great big hole there, under the jumbled together mess of scrap wood that we put up to make sure nobody fell out and no animals crawled in.
More of the Laundry Nook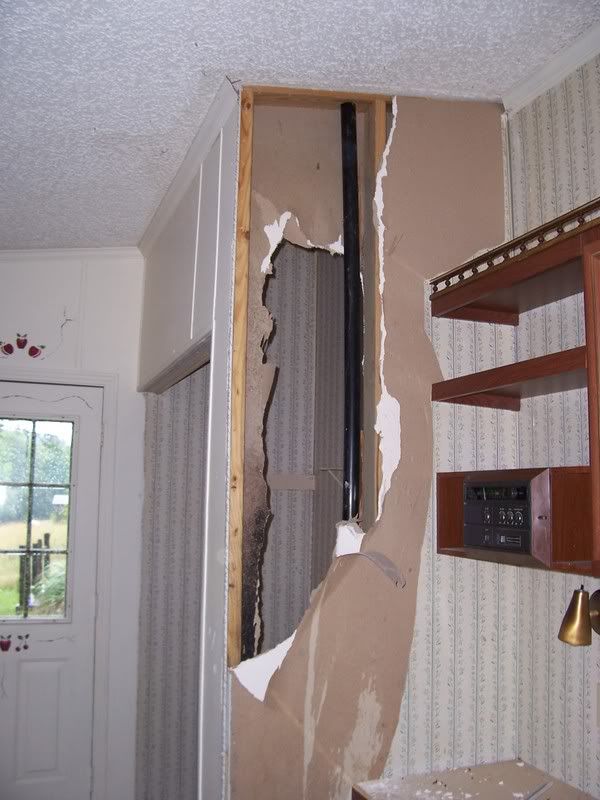 And even more!
Stage 2: with the walls that make up the nook gone, but still with the bad floor.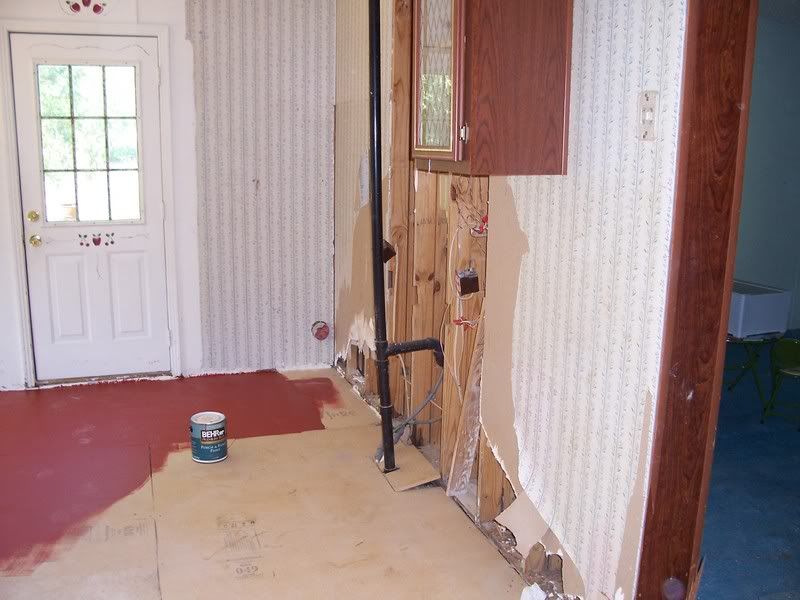 Stage 3, I guess you'd call it. The new subflooring is in, and at least part of it is painted to protect it from random water. Yes, there are exposed pipes, still. A little wall is going to go in, to cover those pipes and give us a "landing pad". There's also going to be a bench and shelves for things as we come in the door.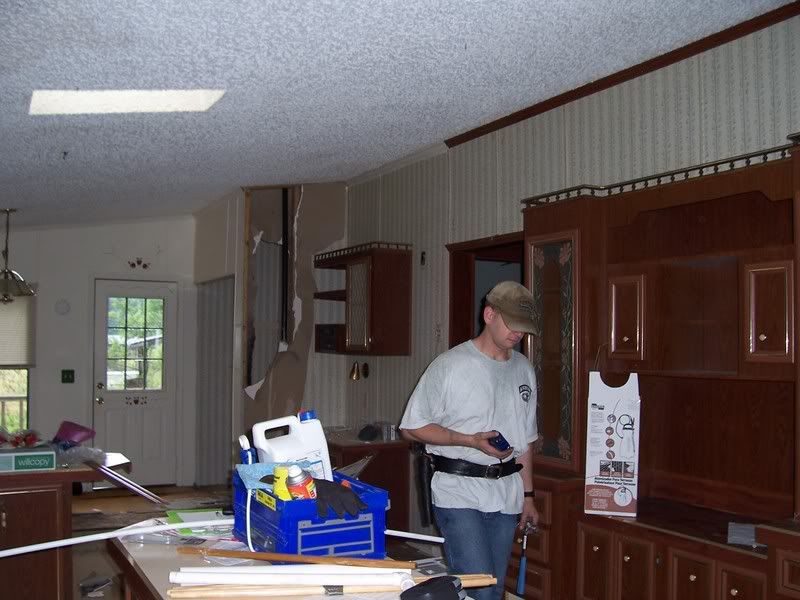 The kitchen overall, before. With Dev!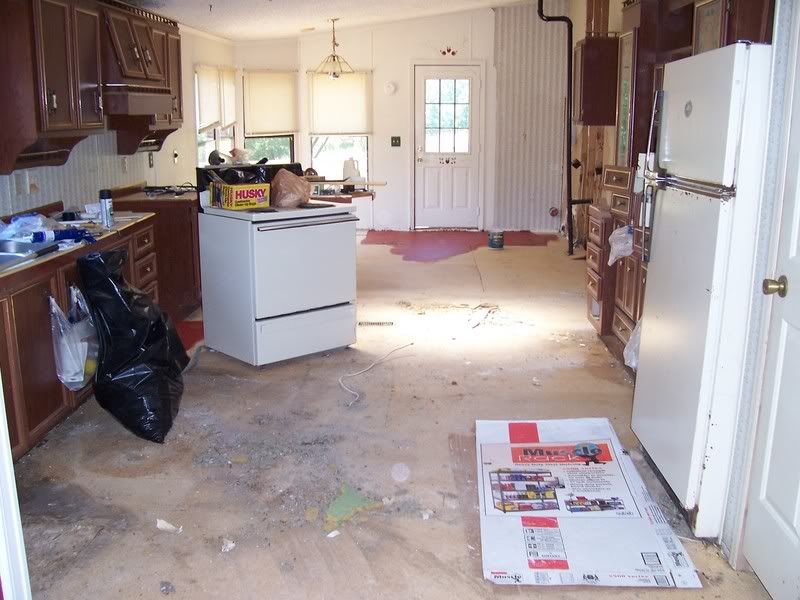 The kitchen, now. You can't really see it, but Dev removed a silly little desk from beside the former laundry nook, and also the island from the middle of the kitchen. Without the island, it's a nice, wide open kitchen. Yay for space!
One of my projects: the deck. 900 square foot deck, covered in green algae, warped, etc. It's been one of our priorities, since wood is so expensive. We want to salvage as much as possible on it.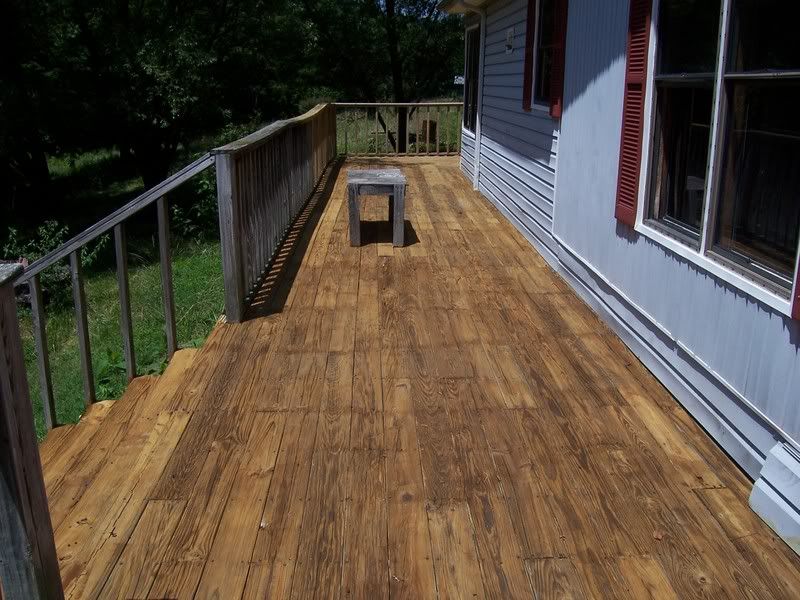 The deck, now. As you can see, we ran out of time with the rented pressure washer, and ended up not cleaning and sealing the rails. But, we found out we know someone with a pressure washer, so that'll be easy to deal with the next time we're up. I think the deck also needs a second coat of sealer, since you can tell where I overlapped. There's still boards that will need to be replaced, but at least they won't rot from under our feet now.
Now, a few fun pictures! Peanut Butter and Jelly!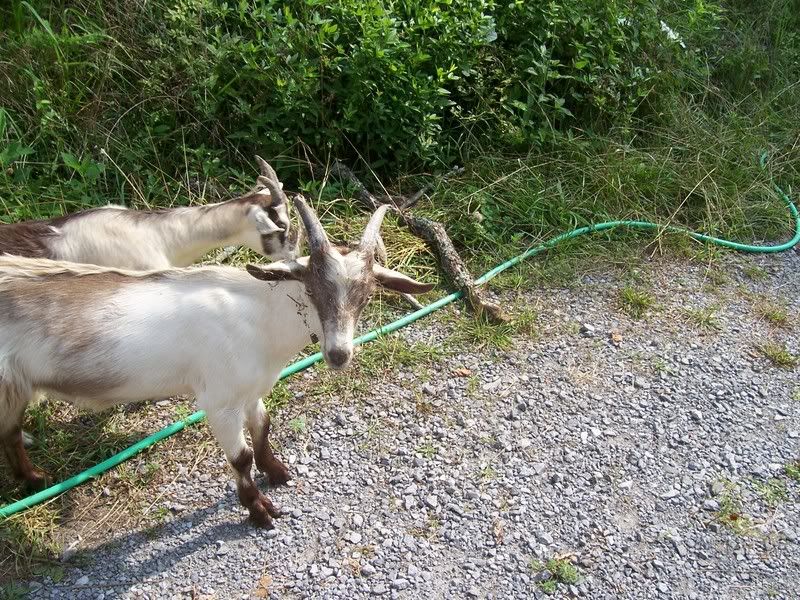 Peanut Butter, with cobwebs around his ears and horns, if you look close. This was the morning that they had been under the trailer.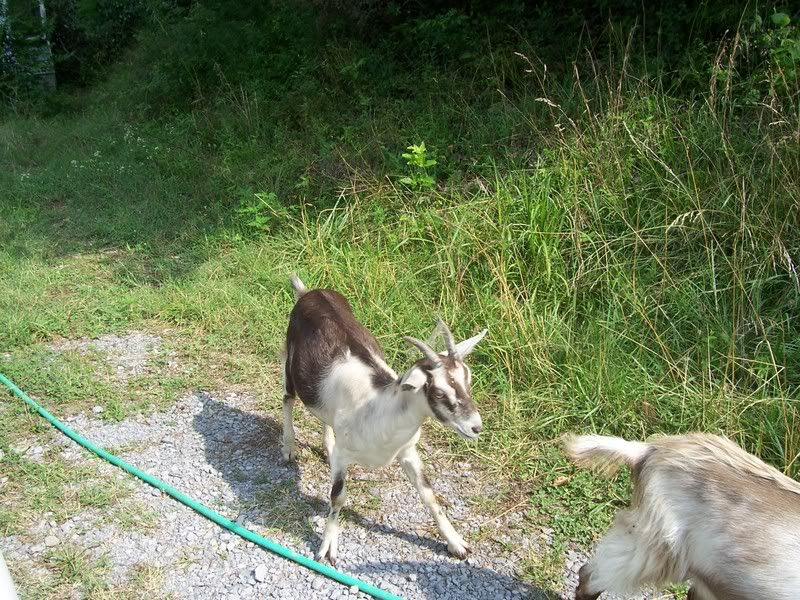 Jelly, also with cobwebs.
Well, that's it! Yes, I did do more than just the deck while I was up there. I also fixed the plumbing leak we knew about. Leak is such a mild word for it. The intake line to the trailer was sheared completely in half! It should have been a pretty easy fix, except for the lying on my side on a 2x4, which hurts like the dickens a day later, let me tell you! It actually was still an easy fix, but it took a few tries, because no matter how many times I measured the damn repair, it still came up too short. Not to mention that the last idiots who "fixed" it did the Oh-So-Smart thing of glueing a male PVC piece into a female $40 pressure regulator. I'm still mad over that stupidity! I also installed an outside faucet at the same time (yes, I'm handy!) which is good, since we discovered another leak in the master bath. Dev and I both agreed that we have no desire to deal with that one. It involves crawling under the trailer farther than either of us want to and working in basically complete darkness. He's going to get a friend to do it for him, in exchange for a gun that Dev doesn't want any more. And, with the outside faucet, we can turn off the flow to the trailer and still water the animals! You'd almost think we planned that, huh?
Well, that is basically the entire sum of my three week "vacation". Next time I take a vacation, I really need to insist on actual relaxation!
What else has happened... Not much, lately. DC finally has another loose tooth. Dev is ready to leave Ft. Benning and go anywhere else. Brian is Brian, which as we all know, is a scary, scary thing. *grin*