Happy Birthday, DC!
The boys are definitely exhausted at the moment, after a "quiet" family party. Brian even had a nap today, if only so that Mommy and Papa could put together DC's alien legos in peace.
All of the toys were a major hit. We've already misplaced a couple of Rush Hour cars, and the boys have shot each other hundreds of times with their toy guns (a rather cool set, actually). Dev was shocked and amazed that DC didn't jump at the chance to go to the range to shoot his new BB gun. He enjoyed playing with the clay targets, though.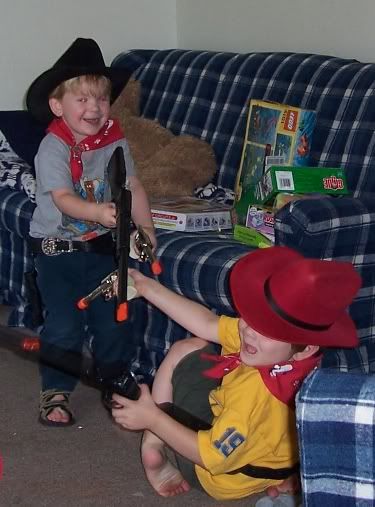 So far the biggest hits have been the cheap add ons, of course. Dollar Tree has flying disks that the boys -- and all the neighborhood kids -- enjoyed. And somewhere along the line I picked up a set of magnetix party favors. 16 piece little containers, four for a dollar at either Dollar Tree or Mall-mart.